"Delivering tools is no art today, anyone can sell over the counter. But being able to advise someone who masters their craft and needs tools to make a living, or equipping a production plant with reliable tools for a reasonable price, is a piece of art and a responsibility. Being an equal partner to our customers – I'm glad that's what we're accomplishing."
Jan Kupský

|
CEO of ALFAVARIA Group s. r. o.
Jan Kupský
CEO of ALFAVARIA Group s. r. o.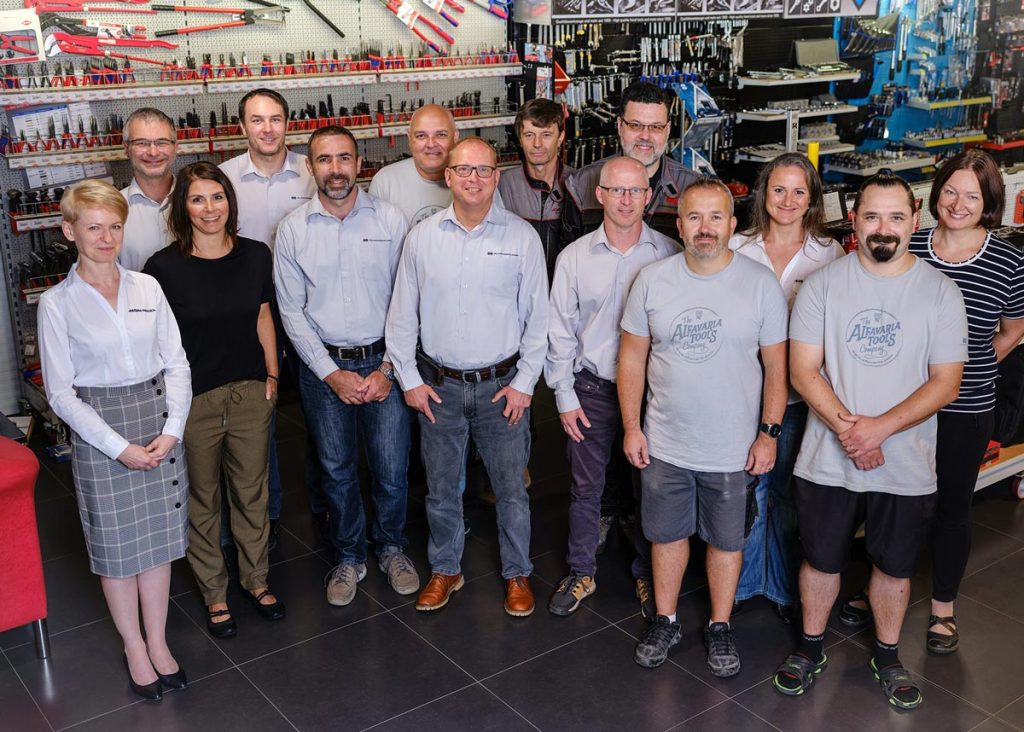 25 years of experience – we equip craft workshops and production plants
ALFAVARIA Group s. r. o. was founded in 1996 by Jan Kupský as a trading company focused on the sale of quality tools and workshop equipment for crafts, production and assembly. We still operate in this area.
We are buying an office building in Liberec, which will soon become the basis of our future business premises.
Decade of fairs and exhibitions. We exhibit at MSV, Autosalon, IDET, Amper.
We can very well provide tool service for companies. We will handle warranty repairs of tools and equipment you have purchased from us. In our own repair center, we provide post-warranty service for the tools we supply. We repair only professional tools.
The processes within our company work well. We are constantly tuning them so that we can offer you fast and reliable services. Since 2005, we hold the quality certificate ČSN EN ISO 9001: 2016

We have implemented SAP; we now manage warehouses, purchasing, sales and accounting in one of the most progressive business applications. We are able to interconnect ERP systems with large customers and simplify data exchange.
In 2008, we expanded our activities to offer car installations – for companies, intervention units, emergency services, but also for end users and their hobbies. We design, manufacture and install the built-ins. We build portable workshops and send them all over the world.
One of our specializations is the matter of precise joint tightening in the industrial assembly. In 2006 we secured first significant orders. We design tightening tools, evaluate torque, and solve workplace ergonomics. We provide service, program control units, train staff.
We exhibit in the world – SEMA, Las Vegas, USA; Global Petroleum Show, Calgary, Canada. We imported an old Ford T with a wooden cabin from Las Vegas, which is now refurbished in our tool store in Liberec.
We build on good relationships and a professional approach. We believe that even in today's digital world, personal contact is important, both with customers and suppliers. We will be happy to work with you on the same foundations.
So far, the last construction project in the Liberec premises – the new technical hall has significantly expanded our storage capacity.
25 years of successful business behind us. Thank you to all business partners thanks to whom we are here.
Call or leave us a phone number
and we'll call you back
ALFAVARIA Group – cooperate with us